Transportes Central Pombalense is a leader in national road transport, providing vehicles prepared for all types of cargo transport, tanker transport of powdery products, container transport, transport under regulated temperature (refrigerators), logistics and distribution.
We specialize in road transport from local, regional, national and international sources. We also provide a daily cargo groupage service from Lisbon-Porto-Centro, demonstrating our ability to respond to our customers' requests.
For over 50 years we have been transporting goods all over Portugal and beyond. We respond to demand, which is why we have a fleet prepared for the specifics of your orders.
Our experience, speed, professionalism and safety make us one of the best transport companies in Portugal. We look forward to receiving your request. Contact us and ask for a quote.
We transport your company all over the country and beyond. We transport all types of cargo, refrigerated goods, tippers and tanks.
Our drivers receive constant training, enabling us to provide a high quality service in the transportation of goods for your company.
We want to contribute to the evolution and sustainability of your business. We can transport your company anywhere in Portugal and anywhere in the world.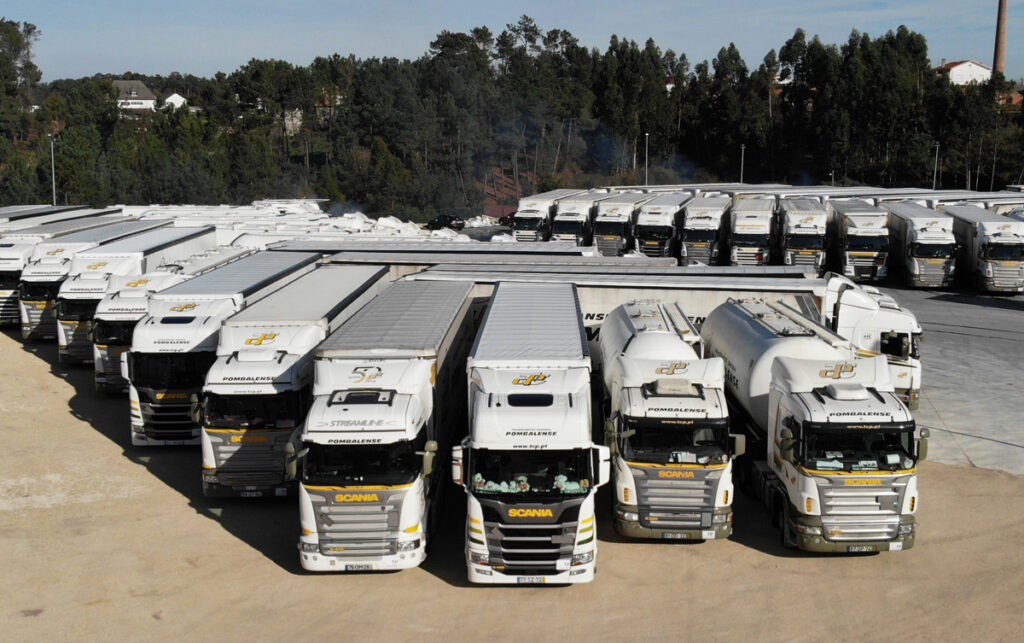 43
K
Cargo Transported in 2021

With the objective of preserving the effluents and, consequently the rivers and the sea, TRANSPORTES CENTRAL POMBALENSE possess, close to their premises, since 1997, two antipollution units of soil and water with a 70 m3 total capacity of water treatment per day.
These 2 units have actually their own water recycle system.
The recycling of materials is also systematic thanks to a periodic pick-up of pneumatics, oils and other detritus, by credential and specialized companies, for a posterior treatment or reprocess.

In constant evolution, TRANSPORTES CENTRAL POMBALENSE has a regular transportation line between Italy and Portugal, and vice versa, in partnership with one of the most important Italian forwarders.
With approximately 40 trucks a week, the company also regularly handles partial loads from Portugal, France and Spain to Italy.
Responding to an increased need in the transportation of powder in tanks in Europe, Transportes Central Pombalense, in association with other managers, has created the Lidercister partnership.
LIDERCISTER
2985-909 – Pegões
Mobile: 00351-265 898 740
(Call to the national fixed network)
Fax: 00351-265 898 742

Construction of the first warehouse in1985;
Increase of the storage capacity of 4.500 m2 with the acquisition of a second warehouse at Meirinhas in 1998;
Presently, a third warehouse is under construction, with 5.000 m2, to increase in 100 % the warehousing capacity.
In addition to the transport services, TRANSPORTES CENTRAL POMBALENSE can offer a total of more than 7.000 m2 of storage capacity, making themselves the ideal partner of companies in full expansion.
The handling of goods in our warehouses in 2003, was superior to 31.140 tons.